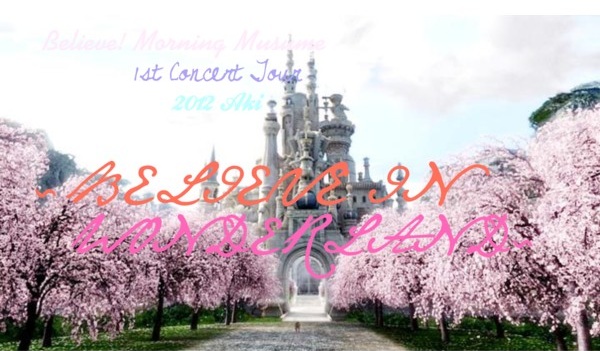 ~Believe in Wonderland~ is the 1st concert tour of Believe! Morning Musume. Their outfits for the first songs are Alice in Wonderland themed, the stage was also set up like Wonderland.
Members Featured
Songs Performed
Sayonara No Kawari Ni
Kare To Issho Omise ga Shitai
Souda! Were Alive
Renai Hunter
Tomo
Namidacchi
Iroppoi Jirettai
Onna To Otoko no Lullaby Game
Seishun Collection
Hatsukoi Cider (Reana, Mandi, Kristen)
Ame no Furanai Hoshi wa Aisenai Darou
Fantasy Ga Hajimaru
Natsu Dakara (Reana, Mandi, Kristen)
Sekaiichi HAPPY No onna no ko
Aruiteru
Tachia Girl
LOVE Machine
Suki-chan
Pyoco Pyoco ULTRA
Kono Chikyuu No Heiwa Wo Negatterun Da yo
Namida Ga Tomaranai Houkago
Only You
Joshi Kashimashi Monogatari
Yume Miru 15
Amazuppai Haru ni SakuraSaku
Momoiro Sparkling
My Days For you
Asu wa deeto (Mandi, Kristen, Karina, Reana)
Please! ~Miniskirt Post woman~
All for one and one for all
Busu Ni Naranai Tetsugaku
Shabondama
Shiroi Tokyo
Furusato
Uchouten LOVE
Resonant Blue
Ama no jaku
Shortcut
Ganbaranakutemo eenende
Trivia
Some people thought it would be difficult for a group of 5 who just entered to perform a 39 song concert.
The members were worried that they might faint halfway due to tiredness.
Mandi, Reana and Kristen had lesser breaks than Karina and Sophia considering the fact the 3 of them had to perform in all the songs.
It started with all the members in Alice In Wonderland themed clothes which points out why the title was ~Believe In Wonderland~.
It was said the title was also chosen because everything started out with 1 person Believing.
Sophia was dressed up as the White Queen, Mandi was dressed up as Alice, Karina was dressed up as the Red Queen, Reana was dressed up as the White Rabbit, Kristen was dressed up as the Cheshire Cat.
From Souda! We're Alive until Seishun Collection, they wore white vests similar to the ones in Renai Hunter along with tutus in their member color and white boots.
Reana, Mandi and Kristen wore outifts similar to those in Hatsukoi Cider while performing Hatsukoi Cider.
During Fantasy Ga Hajimaru until Tachiagirl, they wore the promotional outfits of Morning Musume for Rival Survival. 
Tsunku said that during Hatsukoi Cider, Reana's voice was on full power, When asked what he meant, he said: Reana's voice is good, nice and everything but you can always think that she can do much better, and apparently, while she was singing Hatsukoi Cider, I could feel the words touch my heart, I never heard her voice like that ever since, I'm hoping to hear it once again, honestly, Mandi was also really good in her vocals, she just needed a bit more confidence.