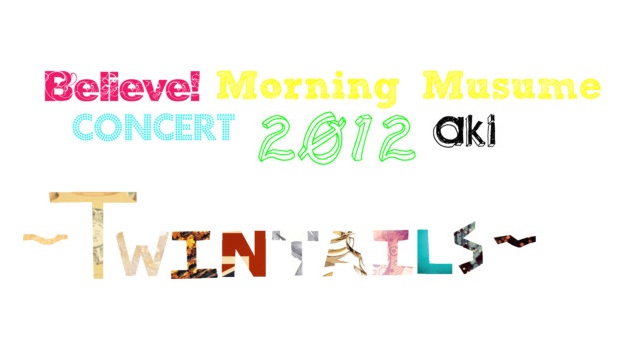 ~Twintails~
is
Believe! Morning Musume
's 2nd Concert. It has 3 more songs than the first concert and was said to be a challenge to see if they can overcome struggles and will do anything to keep their idol position. The members were said to have performed the concert beautifully. Everyone was amazed by how Mandi and Reana were able to take on dueting 2 fast-paced songs all alone (Considering the fact they were still developing their dancing and singing skills).
Members Featured
Songs performed
Cha Cha Sing
Loving You Too much
Never Gonna Stop! (Mandi, Reana, Kristen)
Busu Ni Naranai Tetsugaku
Kiss Me Aishiteru
Daite HOLD ON ME
Dear My Friends (Mandi)
Doki Doki Baby (Kristen)
Dot Bikini
LOVE Machine
Be Genki! Naseba Naru
Kare To Issho Omise ga Shitai
~FOREVER~ Anata Ni Aitai (Reana)
Kimagure Princess
Shouganai Yume Oibito
Kanashimi Twilight
Koi No Telephone GOAL (Sophia, Karina, Reana)
Momochii Urushite Nyan Taisou (Reana)
Morning Coffee (Sophia, Mandi)
Do it! Now
Koko Ni Iruzee
Naichau Kamo
Nanchatte Renai
One Two Three
One Two Three (Reana, Mandi)
The Peace! (Karina, Kristen)
Pyoco Pyoco Ultra
Renai Hunter
Suki Yo, Junjou Hankouki
Shabondama
Song for the DATE (Karina)
Shabondama (Reana, Mandi)
Summer Night Town (Sophia)
Words For You (Mandi, Reana and 2 other classmates)
Reborn!
Aitai, Aitai, Aitai Na
Whats Up? Ai no dono do you!
Renai Revolution 21
Chotto Mate Kudasai!
Wakuteka Take a Chance!
Baby Koi ni KNOCK OUT (Mandi, Kristen, Karina)
Cats Eye 7
Trivia
When asked why Reana was in most performances rather than having it equal Tsunku answered that it was due to the fact she could memorize alot quicker, knows more songs and can speak more fluent in Japanese than the other members. It wasn't meant to bring the other members down or tire Reana but to tell them to work as hard as her to be able to catch up and considered REAL Morning Musume Members.
They all wore Pigtails for this Concert.