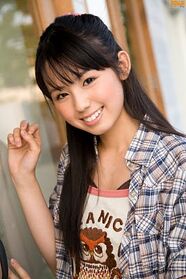 Anata ni Kawatte: Anami Megumi 
(
On Your Behalf: Anami Megumi; お客様に代わって、穴見めぐみ)
is a stage play and musical directed by Akari Akihiro. It was announced January 4, 2013. The play will be performed from March 28, 2013 to April 5, 2013.
Cast
Shibata Ayumi (

柴田あゆみ) as the Counselor

Shimizu Saki (清水佐紀) as Mother
Nakamura Ayame (中村あやめ) as Hamamoto Azumi - Lead Role
Alis as Juliet Jefferson
Fukumura Mizuki (譜久村聖) as Anami Akira - Lead Role
Xiao Miya (肖宫) as Kano Asami
Eguchi Rin (江口鈴) as Anami Megumi - Lead Role
Koyanagi Misa (小柳美沙) as Daishi Aisa
Reana (再集合体) as Eto Amaya - Lead Role
Maia (マイア) as Imada Aita
Synopsis
Everyone gets the message: THE WORLD WILL END WITHOUT TREES. This causes Anami Megumi to react. Anami opens up the Kyuuto Enviorment Club (For Girls!) and has six member join, - even her mother! But this causes her sister, Anami Akira,and her sister's friend, Hamamoto Azumi, to react. How is Anami going to put a stop to Akira and Azumi, AND save the world?
Songs Performed
Kono Machi - Moritoka Chisato (PART I) (All)
Kono Chikyuu no Heiwa wo Honki de Negatterun da yo! - Morning Musume (PART I) (Eguchi Rin and Reana)
Be Genki <Naseba Naru> - Berryz Koubou (PART II) (Shimizu Saki,Alis,Xiao Miya and Maia)
Seishun Rainbow - Mano Erina (PART II) (Eguchi Rin)
Ame yo - Nakazawa Yuko  (PART II) (Shimizu Saki and Koyanagi Misa)
Sakura Chirari - C-ute (PART II) (Nakamura Ayame and Fukumura Mizuki)
Namida no Taiyou - Melon Kinebi (PART III) (Shibata Ayumi and Eguchi Rin)
Hokkaida Shalala - Country Musume (PART III) (Shimizu Saki,Fukumura Mizuki and Eguchi Rin)
Natsu Dakara - Buono! (PART III) (Alis,Xiao Miya,Reana)
Chu! Natsu Party - 3nin Matsuri (PART IV) (Shibata Ayumi,Eguchi Rin,Maia)
OH! BE MY FRIEND - Hello!Project (PART IV) (Nakamura Ayame,Fukumura Mizuki,Eguchi Rin and Reana)
Tsuki to Taiyou - T & C BOMBER (All)